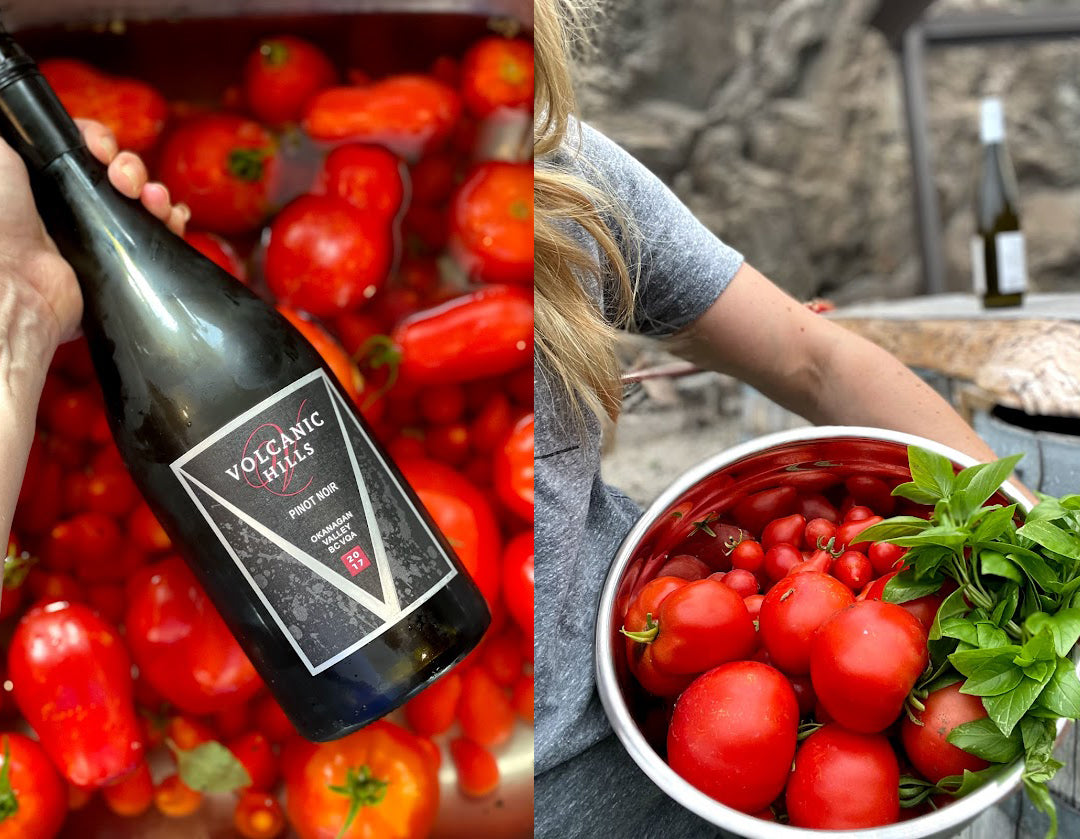 Ultimate Tomato Sauce - Perfect for canning or freezing
Some of the best recipes are the simplest.  Fresh ingredients, picked at the right time, thoughtfully prepared... not overdone.  This is one of those recipes.
If your garden is anything like ours, it is probably about to explode with tomatoes!  Few things are sweeter than indulging in a family pizza or pasta night using a tomato sauce base that you have lovingly crafted from garden to plate.  This simple recipe was born out of necessity - we had WAAAY too many tomatoes!  It has quickly proven to be a family hit - so much so that we gift jars of it to only those that we really really love at Christmas time - along with one of our favourite bottles of red wine!
Don't have a garden full of tomatoes?  Local Farmer's Markets will be fully stocked with them throughout the coming month.  
Using it for Pizza?  Pair with our spectacular Cabernet Franc.  Craving a Beef Lasagna or Bolognese?  Use this base with our award winning Merlot.  It's also exceptional on Wild Mushroom Ravioli when paired with our Pinot Noir. 
No matter how you pair it, you know you have a dish that was made with love.
Ingredients
3 Baking Sheets full of fresh Tomatoes - cut in half and seeded (we like to mix cherry and san marzanos)
1 Large Onion
1 Head of peeled Fresh Garlic
1/4 cup of Extra Virgin Olive Oil
1 Tbsp. Salt
2 Tbsp. low sodium beef bullion
Pepper to taste
Directions:
Preheat oven to 300C.  Line 3 large baking sheets with parchment paper.  Cut tomatoes in half and remove seeds into a separate bowl.  Slice onions and add to baking sheet with tomatoes and fresh whole garlic cloves.  Drizzle produce on each sheet with the olive oil and garnish with salt.  
Roast tomatoes, onions and garlic in the oven until onions are slightly golden and soft, and tomatoes have lost much of their moisture - typically 1-2hrs depending on the size of the tomatoes.
Remove from oven and let cool.
In a blender - add dry beef bullion and roasted vegetable mixture.  Blend on low until desired texture is reached.  Add pepper to taste.
This sauce can be further simmered down and reduced on the stove if you find your tomatoes held a lot of water.  
We like to bag and freeze ours for easy use.  If canning, follow canning procedures according to your canning instructions.
Enjoy!