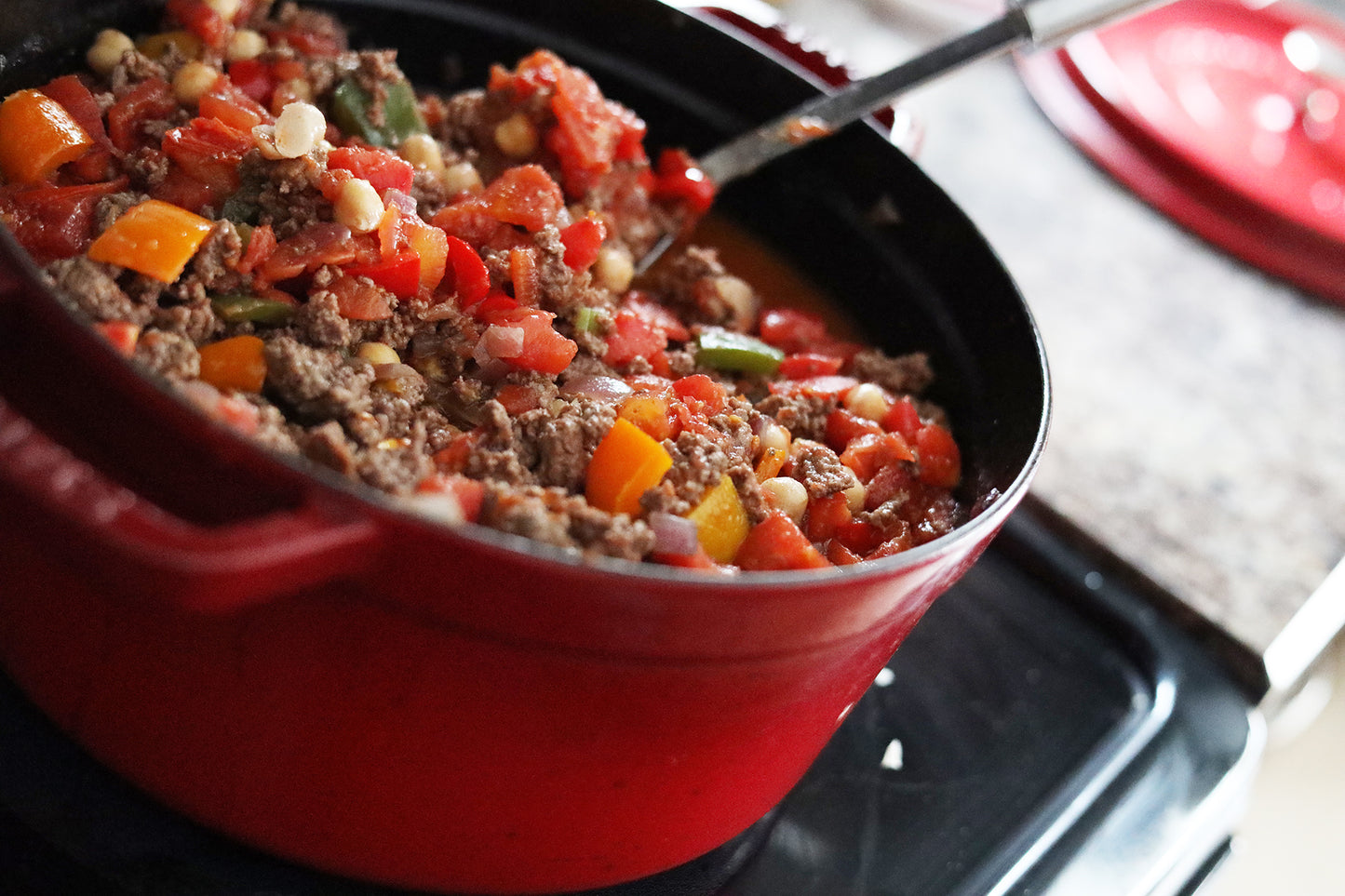 Homestyle "Gameday" Chili - Pairs perfectly with your weekday red wines!
 As you might imagine, we LOVE cooking with wine!  On occasion we will even put some of it in the food!  But It's certainly not a requirement.  We believe great wine pairings don't have to be fancy, and you can enjoy them no matter the day of the week.  Great joy can be found in elevating your everyday meals - and our pairing of homestyle "Game Day" Chili with our Lava Red is proof that you don't need fancy fair in order to enjoy a truly magical food and wine pairing experience.  Need a little more inspiration?  Check out our recipe reel on Instagram
If you like your chili with a medium level of heat - our Lava Red is the perfect wine to pair with it.  Soft and fruity, with a hint of sweetness and juicy acidity - this wine begs to be paired with tomato based dishes such as Chili.  That touch of sweetness on the finish works wonderfully with mild to medium chili heat in that it tames your perception of the sweetness in the wine, and calms the heat of the food.  Prefer your wine bone dry?  Give this recipe a try with a little less chili powder and pair it with our Gamay or Pinot Noir - two other juicy wines that pair beautifully with the acidity found in tomato based dishes.
Ingredients:
1kg Lean Ground Beef
3 Tbs. Olive Oil

1 Medium red onion, finely chopped

1 Green Pepper - chopped
1 Red Pepper - chopped
1 Orange Pepper - chopped
1 Yellow Pepper - chopped
3 Stalks of Celery - chopped
1 Tbs. Cumin
1.5 tsp chili powder
2 tsp Maple Smoked Sea Salt
1.5 tsp chili flakes
2 X 796ml can (28oz) Diced Tomatoes
1  X 540ml can (19oz) Chick Peas
1 X 540ml can (19oz) Black Beans
Optional Toppings: Shredded Aged Cheddar, Diced Avocado, Sour Cream, Chopped Cilantro
 Directions:
In a large pot or Dutch oven heat olive oil over medium heat - sauté onions, peppers and celery until onions are translucent, and peppers are slightly soft.
Turn temperature up to medium/high and add ground beef.  Brown until no longer pink - stirring frequently.
Add all spices - note that you may wish to start with those listed and adjust according to taste once the chili is fully cooked.
Sear beef and spices together for approximately 1-2 minutes to release aromas
Reduce heat to low and add tomatoes, chick peas, and beans
Let simmer on low for approximately  3-4hrs until desired consistency is reached.  In our household we prefer most of the water from the tomatoes to be completely evaporated - this also allows a better integration of flavours.
Serve with cheese buns and top with cheddar, avocado, and cilantro if desired - alongside a tall glass of Pinot Noir, Gamay, or our Lava Red!
Cheers!
     Recipe Credit: Kathryn Fedoruk