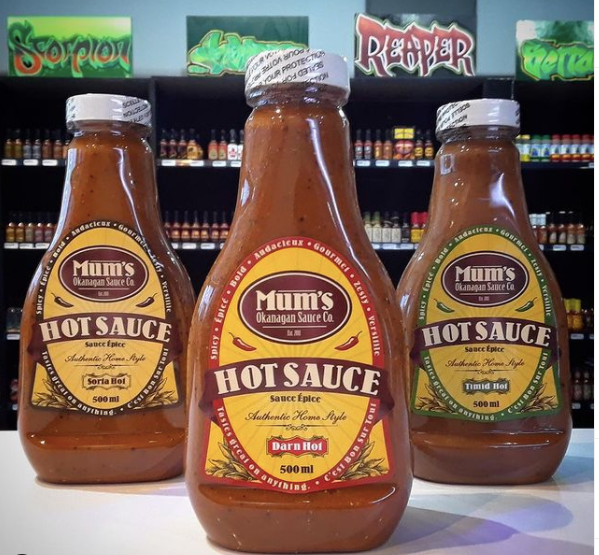 Small Business Feature - Mum's Hot Sauce | June
MUM'S OKANAGAN HOT SAUCE is made using a special family recipe and has been handed down from generation to generation...and refined over the past 30 years.
How did Mum's hot sauce get started?
I used to make hot sauce for my family. It was just for them at first. We spruced up and old family recipe and perfected it. My husband and daughter love
spice and put hot sauce on everything! I would make them big jars of it and they I swear they could've drank it like water. When my daughter moved out and started having her own barbecues with her friends, they would always ask for my hot sauce to put on whatever they were grilling up. Her friends would ask, "where did you buy this?", "What hot sauce is this?"And she would just say oh it's mum's hot sauce. My daughters friends then started saying for me that I should market it. The name was a given and Mum's Hot Sauce was born. 
What is Mum's Hot Sauce?
A hybrid of hot sauce and gourmet bbq sauce, it is made from 100% natural ingredients, is gluten free, contains no preservatives or MSG. Mums Sauce can be used in many ways, adding to it's unique versatility. Use it as a baste, marinade, dip, or in addition to other sauces. As the creator of your kitchen, you are only limited by your imagination. It really works great on anything and everything, from eggs, meats, sea food and veggies.
What are your 3 flavours and which is your personal favourite?
We have three flavours, Timid, Sorta Hot, and Darn Hot. Timid is probably my favourite because it's so versatile, you can dip it without burning your mouth off, and it's just really flavourful. All of our hot sauces are spiced with cayenne so they taste slightly sweet on the entry but as you move towards the Sorta Hot and Darn Hot flavours, the spice sneaks up on you! Our "Timid Hot" sauce is for those who like a laid back yet unexpected adventure of flavour. "Sorta Hot" is for those who like to kick it up a notch and take a walk on the edge of taste bud wilderness. Our "Darn Hot" is for those who like to let their hair down and take the bull by the horns, while their taste buds kick and buck! My husband and daughter love the Darn Hot the best.
How do you find it being an entrepreneur in Okanagan?
It's harder in certain facilities, and they are spread out all over. All of the other entrepreneurs are very helpful and community driven. Even in the hot sauce space, I find that everyone else is quite willing to offer advice, and information. I find that there is a lot of support.
How has the pandemic impacted your business?
We thought it was going to be a slow year but it ended up being busier than ever. I think with the pandemic more people are cooking at home and spending time in their backyards or on their patios. There was a shortage on bottles and caps, but we got super lucky because as we started running out, the bottles came through, we are still waiting on some caps though. The community was super supportive. 
Where do you hope to take Mum's in the near future?
The goal for Mum's is to have a legacy to pass down to my kids, it provides them with work and it keeps them involved in the community. They try to serve as locally as possible but are hoping to expand into larger stores soon. They try to support many different community efforts, and support local charities whenever possible.
Mum's Hot Tip:
Mix with a sour cream/ mayo, yogurt and make a nice vegetable dip. Great in a Caesar.
| | | |
| --- | --- | --- |
| | MUM'S OKANAGAN HOT SAUCE is made using a special family recipe and has been handed down from generation to generation...and refined over the past 30 years. | |

With so many incredible options to choose from, you really can't go wrong!
For the whole month of June, we are offering 10% off Mum's Hot Sauce in store and online. Enjoy!