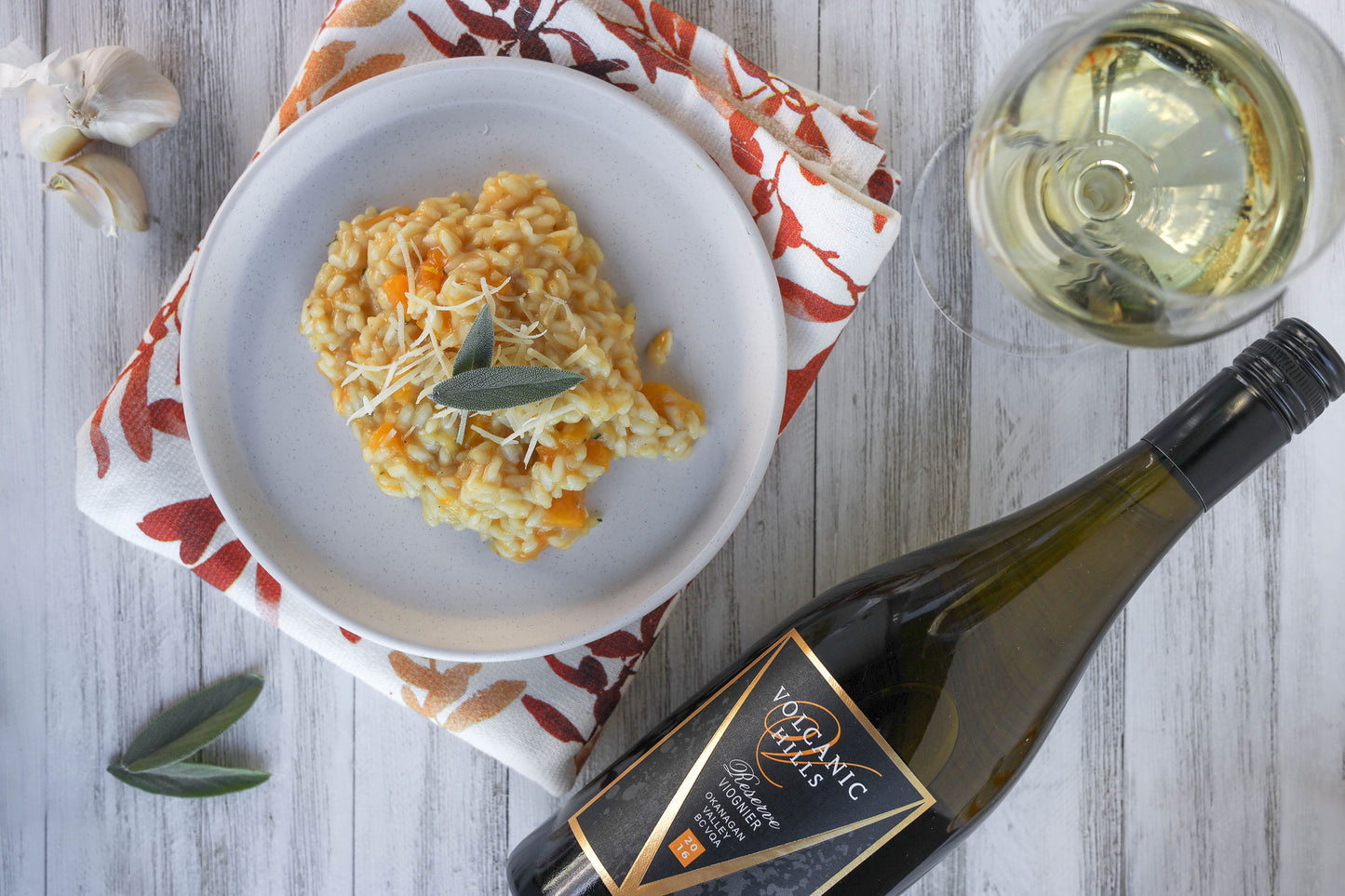 Roasted Butternut Squash Risotto with Vegan Option
Roasted Butternut Squash Risotto with Reserve Viognier
As the cooler weather sets in, we find ourselves craving the warm flavours of fall. One of our favourite fall vegetables is Butternut Squash, and it pairs beautifully with our cool weather white wines like our Viognier and Chardonnay!  Whether made as a main or a side dish, this is one pairing that we can assure you will impress your taste buds!
Ingredients:
2 ½ tbsp unsalted butter divided or Vegan butter
1 large shallot minced, about ¼ cup

½ large butternut squash 

peeled and diced, see note below
2 cups arborio rice

4

 cloves garlic minced
6-8 cups vegetable stock - low-sodium
1 cup Parmigiano Reggiano freshly grated, or Vegan parmesan
1 Tbsp fresh sage finely chopped
1 tsp lemon zest
½ tsp Kosher salt
¼ tsp freshly cracked black pepper
 Directions:
Preheat oven to 400F. Add butternut squash to a baking sheet and toss with 2 cloves of minced garlic, olive oil, and a crack of sea salt and pepper. Bake until soft, about 30 minutes.

 

In a large saucepan, heat olive oil on medium heat. Add in the shallot and sauté until translucent, about 2 minutes.
Add the roasted butternut squash, rice, and garlic. Cook for 3 minutes, stirring often.  
Pour in the wine, and allow to cook for 1-2 minutes until most of it has evaporated.
Begin adding stock 1/3 cup at a time, stirring constantly. After a couple of minutes, most of the stock should have been absorbed by the rice. Repeat, adding more stock and stirring continuously, until the rice is creamy, yet tender, about 20 minutes total. Variation in cook time may be due to the size of your pan or the temperature. You want the rice to be al dente with just the slightest bite. The risotto should move freely around the pan and be more soupy than dry.
Add remaining butter, parmesan, finely chopped sage, and lemon zest to the risotto, then stir to combine.
Taste, then add kosher salt as needed to season. Immediately divide between bowls, & serve with cracked pepper and extra parmesan on top.