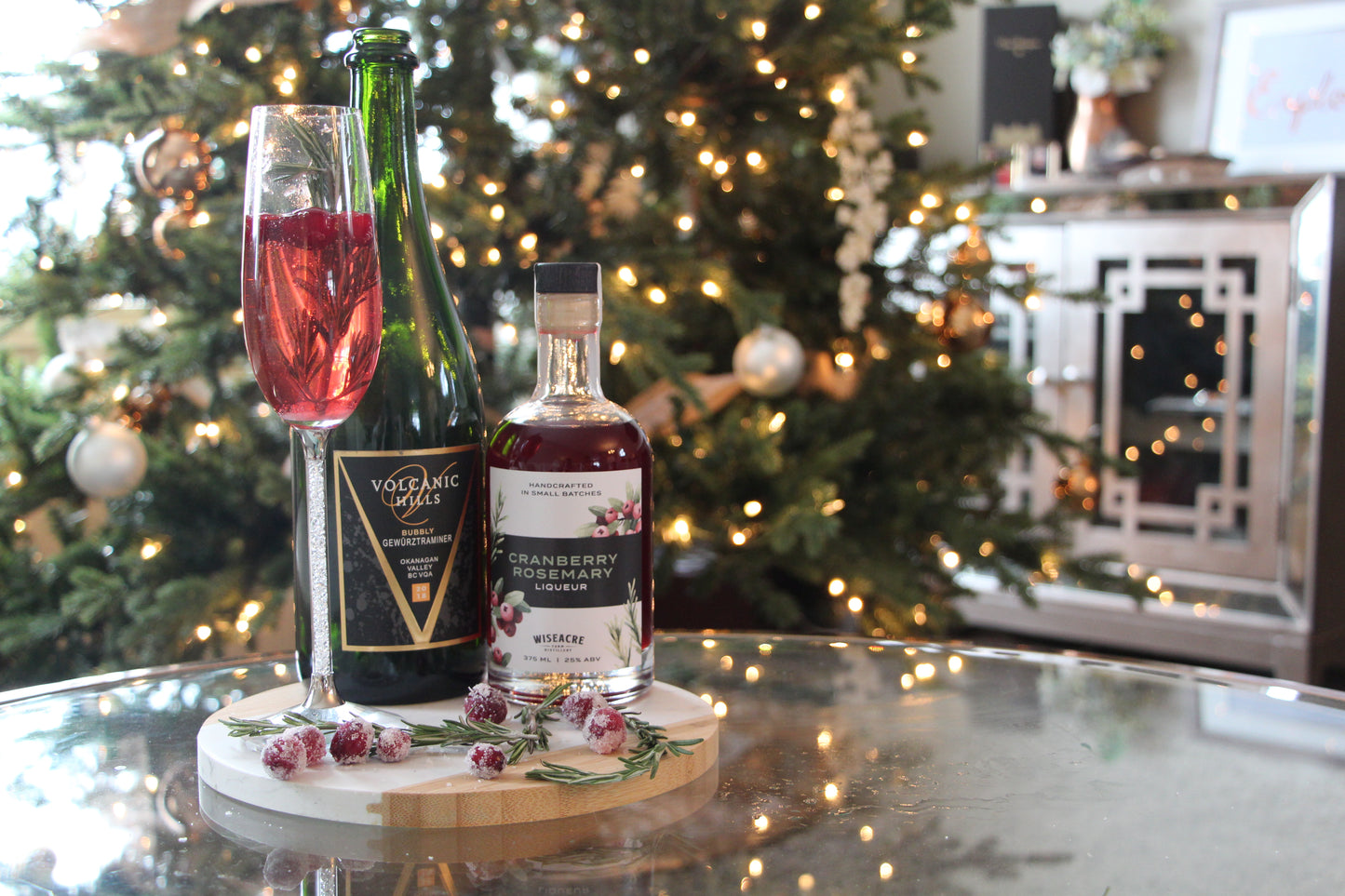 Mistletoe Kiss Cocktail Recipe - Featuring Bubbly Gewurztraminer + Wiseacre Farm Distillery's Cranberry Rosemary Liqueur
If you are planning on hosting a crowd over the holiday season, or just snuggling up with a loved one... we have the perfect holiday cocktail for you.  This simple combination of our Volcanic Hills Bubbly Gewurztraminer with Wiseacre Farm Distillery's Cranberry and Rosemary Liqueur topped with a simple yet stunning garnish of frosted cranberries and flocked rosemary promises nothing but tidings of comfort and joy ;) 
Looking for the Liqueur?  Visit Wiseacre's Website to purchase!
Directions:
Frosted Cranberries
Begin by making the candied aka frosted cranberries for your garnish. 
In a small saucepan combine 1 cup of water and 1 cup of sugar.  Add vanilla and  bring to a boil for 2 minutes.  Once boiled, remove from heat and allow to cool slightly.
Dip fresh cranberries into the simple syrup and coat evenly.  Once coated, transfer to a tupperware container filled with remaining 1/2 cup of sugar and roll the cranberries to evenly coat them.  You can also dip fresh rosemary in the syrup and 'flock' it in the same way!
Rest the 'frosted' cranberries in a single layer on parchment paper and place in the freezer for at least 2 hrs. or completely frozen.
These cranberries are perfect for chilling and garnishing your cocktail.  Consider threading them onto a toothpick of rosemary atop your glass!  Be sure to keep them completely frozen until you assemble your drink to keep it nice and chilled.
Mistletoe Kiss Cocktail 
In a flute or coupe, drop in frosted cranberries and a sprig of fresh or flocked rosemary.  Pour 1 oz. of Wiseacre Farm Distillery's Cranberry Rosemary Liqueur.  Top with at least 3oz of Volcanic Hills Bubbly Gewurztraminer to taste.