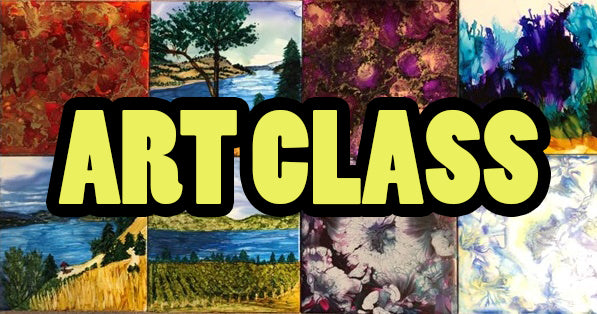 Sip and Ink Alcohol on Canvas Art Class - January 11 2020
Come enjoy a 3 hour art workshop where you can explore your creative side with alcohol inks and guided by experienced Okanagan Artist, Alice Tunnel!
On January 11th from 1 to 4pm, enjoy a 3-hour art workshop hosted in our wineshop and guided by local artist, Alice Tunnel. You will get a chance to explore with alcohol inks if you have not had any experience with them, or work on a improving your skills with Alcohol Inks and artistic vision. You will have a chance to:
- Experiment with the alcohol inks on a small piece of Yupo paper
- Paint on a 6 "tile to paint an abstract or realistic painting.
- Work on a painting on an 8 X 10" canvas to make a landscape, flower, abstract
design, anything that appeals to you.


This class is $60.00 and includes the following:
- Wine tasting and 1 complementary glass of wine or sparkling juice
- Yupo Paper to experiment on, 6" ceramic tile, and a 8X10" Canvas
- Alcohol Inks, brushes, and other supplies to complete your paintings.
Please bring an apron, your creativity, and enthusiasm.
Maximum number of participants for this workshop is 12.
Register at https://www.showpass.com/sip-and-ink-alcohol-ink-on-canvas/