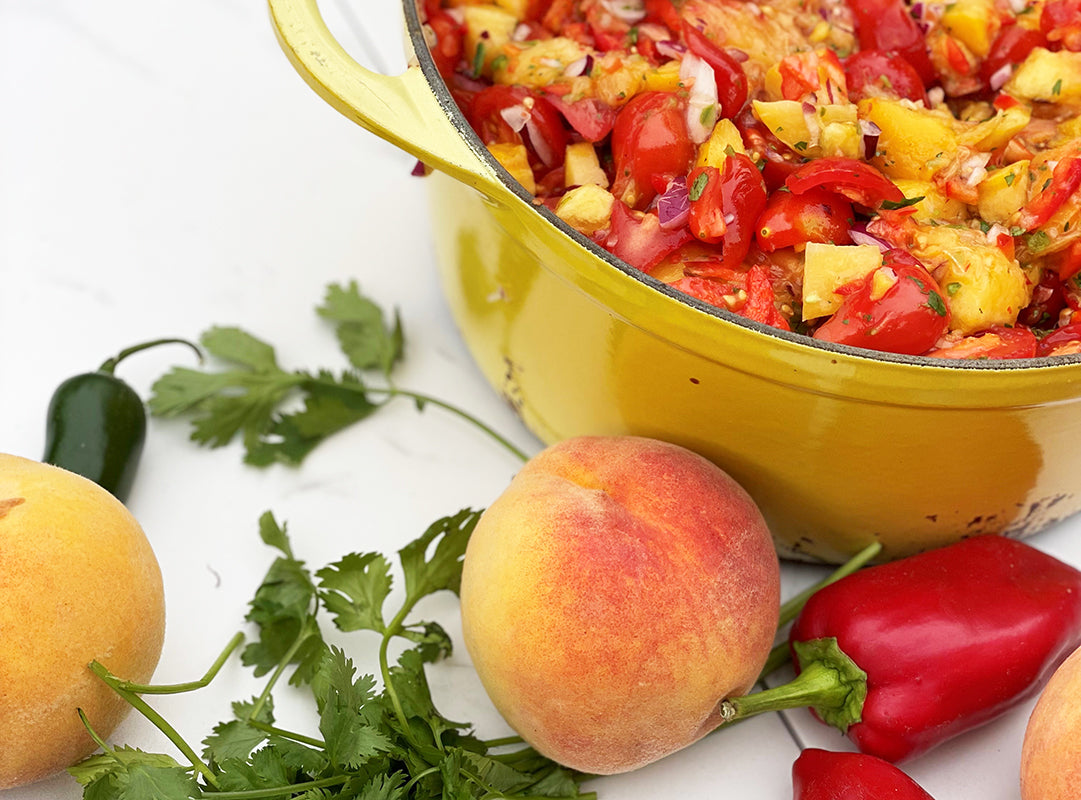 Summer wouldn't be the same without indulging in the sweet pleasure of ripe Okanagan Peaches.  With tomatoes also in fresh abundance in gardens and at Farmer's Markets it's the perfect time to make a batch of Peach Salsa to savour the flavour year round.
A perfect way to jazz up your favourite fish tacos, use it to top grilled chicken breast, or serve along with tortilla chips and guacamole and pair with a chilled bottle of our customer favourite patio wine - Lava White.
The tropical flavours found in our Lava White pair perfectly with the sweetness, subtle heat, and juicy acidity of this salsa.  Whether served with it as an appetizer, or as the wine to accompany your feature dish - this is one combination sure not to disappoint.
Ingredients
6 Cups of fresh peaches - blanched as per directions and chopped
1 Cup of Red Onion - finely chopped
1 Medium Red pepper - finely chopped
4 Large ripe Tomatoes diced or 2.5 cups of cherry tomatoes cut in half
2 Medium Jalapeno peppers - seeded and finely chopped
1/2 Cup Cilantro - Finely chopped
1/2 Cup white vinegar
2 Tbsp. Liquid Honey
3 Garlic Cloves - minced
1 1/2 Tsp. Ground Cumin
1/2 Tsp. Cayenne Pepper
Salt to Taste
Directions:
 1. Blanche Peaches is boiling water for approx 15-30 seconds until peel is soft and lifts slightly.  Immediately transfer to an ice bath.  Peel, pit and chop 6 cups worth.
2. Ensure all other vegetable ingredients are chopped
3. In a large enamel or stainless pot combine peaches, tomatoes, onion, Jalapeno peppers, sweet red pepper, cilantro, vinegar, honey, garlic, cumin and cayenne pepper.
4. Bring to a boil, and cook for about 5 minutes, stirring frequently. If the mixture is soupy, strain off excess liquid. (Insider tip: Reduce liquid on medium heat to create a killer peach hot sauce!)
5. Ladle salsa into sterilized jars and follow canning procedures.
6. Store in a cool dark place or pantry and crack open along with a bottle of Lava White or Lava Red when in good company.
Enjoy!