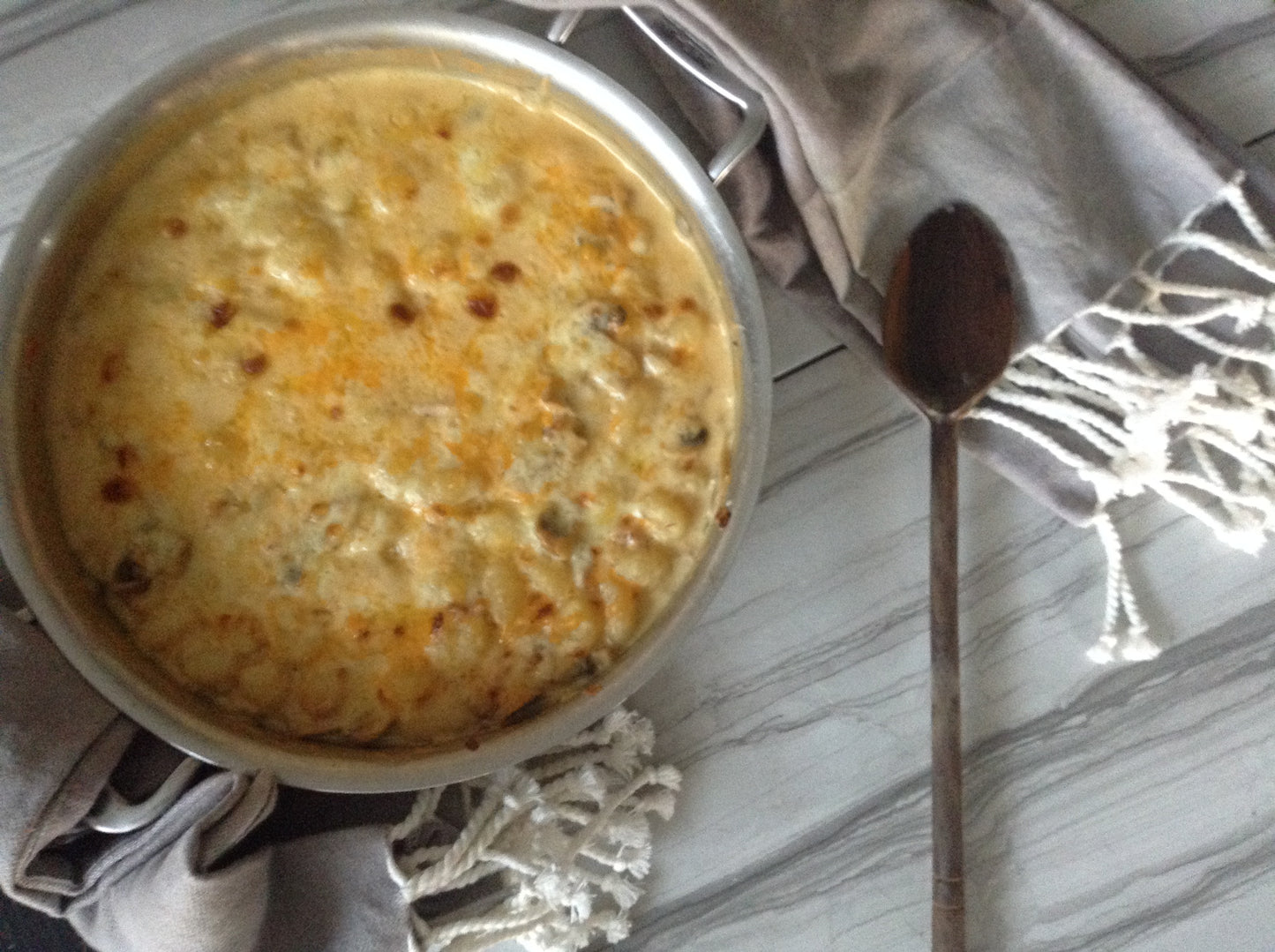 Ham & Cheese Gnocchi with Volcanic Hills Reserve Viognier
If you happen to be on team Ham vs. Team Turkey over the holiday we have an excellent recipe to assist you with your leftovers!  Pair it with our Reserve Viognier - and it's a match made in heaven.
Why does this pairing work so well?
Both pork and oak contain Lactones, which makes a Viognier that has seen a little oak treatment a fabulous choice that matches the intensity of flavors and molecular structure of the meat.  Smoked pork in particular has a fantastic way of bringing out the apricot and stone fruit flavors found in Viognier.
Because of this, Ham works well with Viognier, particularly rich new world varieties that offer up lots of stone fruit, floral, and mineral characteristics.   While the old world French options are delicious, I find that they are more mineral/terroir driven and their subtle flavours can get a little lost with the flavors of sharp aged cheddar.  The fruit in some of the new world bottles holds up if you are using a stronger cheese.
Ingredients:
1 tbsp butter
1 medium onion diced
1 cup of sliced mushrooms
2 cups cooked ham diced
1.5 cups Low Sodium Chicken Stock
3/4 cup heavy cream
1.5 cup mozzarella shredded
2.5 cups sharp/old cheddar cheese shredded
Pepper to taste
Directions:
In a large oven proof skillet, melt 1 tbsp butter over medium heat.

Add diced onions to skillet and sauté for 2min, add mushrooms and cover for 5mins.  Remove cover and continue to sauté until onions are translucent, soft, and mushrooms have begun to brown (approx. another 5mins).

Add diced ham and increase heat to med/high.  Stirring frequently , cooking long enough just to brown the ham and onions slightly.  

De-glaze the pan with 1.5 cups of chicken stock and bring to a simmer.  Once simmering add 3/4 cup of heavy cream and season with pepper to taste.

Add package of gnocchi straight into simmering mixture and cook for 3 mins, stir in 2 cups of sharp cheddar and continue to boil until liquid is reduced to ¾ (about 3 mins).

Remove from heat and top with Mozzarella and remaining cheddar.  Place in 400C oven and bake until cheese is melted , bubbly, and begins to brown slightly.

Allow to rest for a few minutes before serving and garnish with additional cracked pepper if desired!