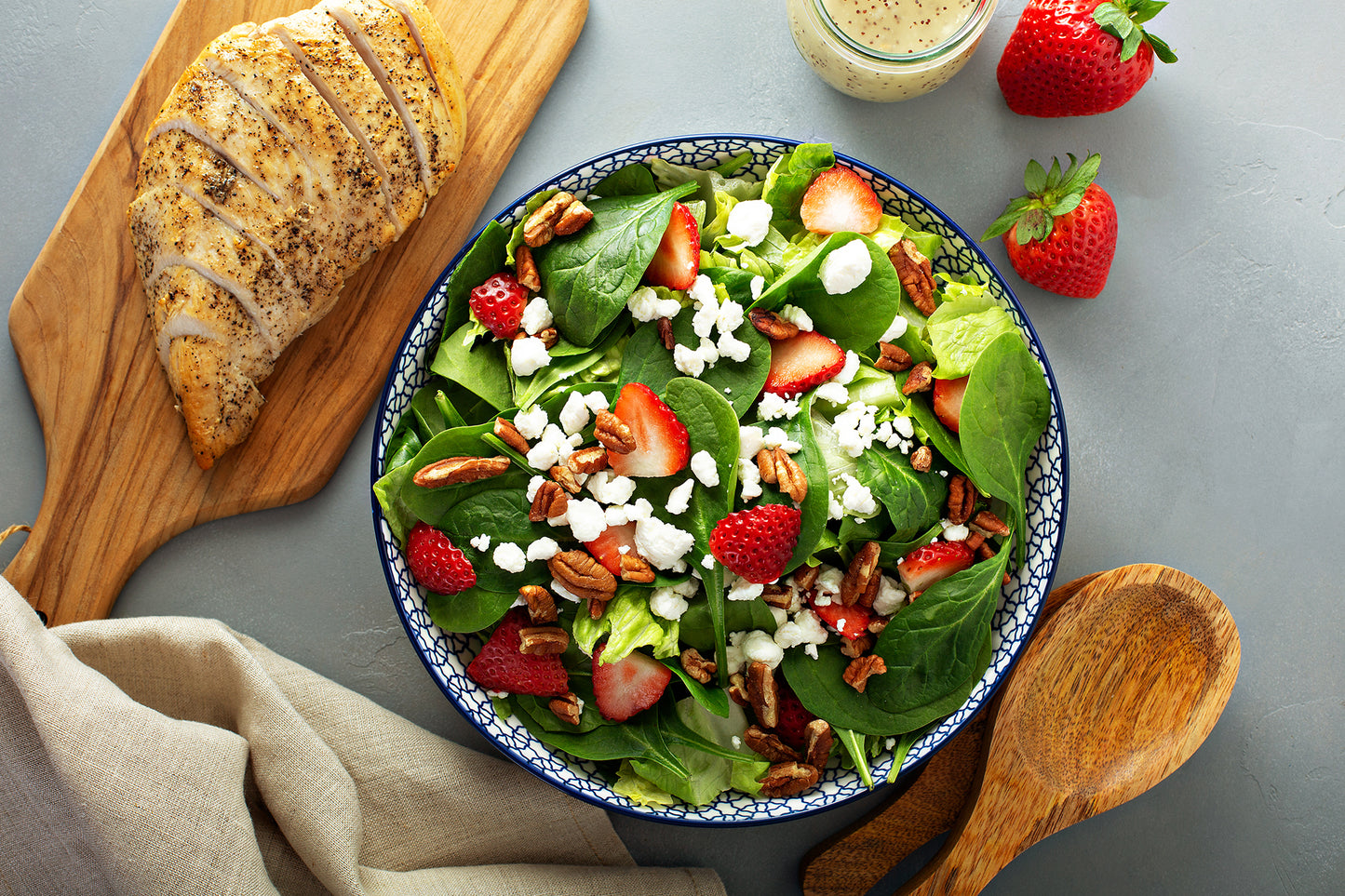 Strawberry season is upon us, and what better way to celebrate than with a fantastic glass of Rose and a light dinner!
Ingredients:
2 Tbs. plus 1/3 cup extra-virgin olive oil
4 boneless, skinless chicken breast halves (about 1-3/4 lb.), tenders removed Kosher salt and freshly ground black pepper
1/2 cup chopped walnuts
1/4 cup red wine vinegar
1st grainy Dijon mustard
2 tsp. honey
1 medium shallot, minced
6 oz. loosely packed baby spinach leaves (about 6 cups)
8 oz. strawberries, stemmed and quartered (about 1-1/2 cups)
3 oz. crumbled goats cheese (about 3/4 cup)
Directions:
Heat 2 Tbs. of the oil in a 12-inch skillet over medium heat until shimmering hot. Pat the chicken dry and season with 2 tsp. salt and 1 tsp. pepper. Cook, turning once, until just cooked through, about 10 minutes total. Transfer the chicken to a cutting board and let rest, loosely covered with foil, for 5 minutes.
While the chicken cooks, toast the walnuts in a dry skillet over medium heat, stirring occasionally, until evenly browned, 3 to 5 minutes. Transfer to a plate to cool.
 In a small bowl, whisk the remaining 1/3 cup olive oil with the vinegar, mustard, honey, shallot, 1/2 tsp. salt, and 1/2 tsp. pepper. In a large bowl, combine the spinach, strawberries, goats cheese, and walnuts and toss with enough of the dressing to coat. Arrange the salad on a platter or plates. Slice the chicken and arrange on the salad. Drizzle with some of the remaining vinaigrette, if desired, and serve.
Serve with a hunk of warm crusty bread and a glass of Volcanic Hills Rosé.
Cheers!
     Recipe Credit: Kathryn Fedoruk