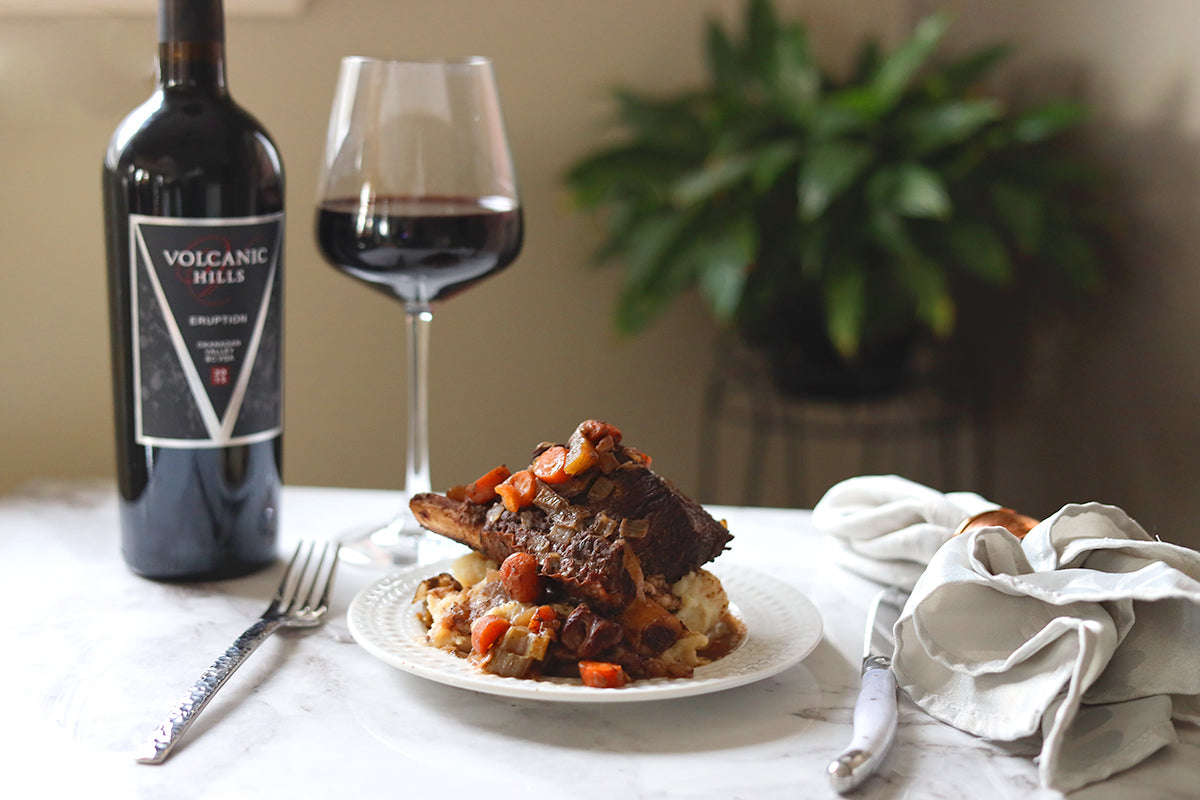 RED WINE BRAISED SHORT RIBS - Perfect for DATE NIGHT!
Cold days call for curling up with those you love with a hearty glass of red wine!  If you are looking for a special bottle, and an equally special meal to set the stage to impress your loved one... remember... Valentine's Day is February 14th, and we have you covered.
Meaty, and decadent, braised beef short ribs are perfectly paired with many hearty red wines.  Our personal favourites are to pair them with our Merlot and Eruption - a Bordeaux inspired blend of Merlot, Cabernet Sauvignon, and Cab Franc.  They also work well with our Magma Red and Lava Red blends.  Why?  because all offer up a beautiful balance of fruit and spice notes.
HINT: When cooking with wine, if you wouldn't drink it... don't cook with it - especially in the case of this dish - your braising liquid consists mostly of wine - which will result in the concentration of flavours from your vino.  We recommend using either the same wine you intend to drink with dinner, or our Magma Red/Lava Red as an economical alternative for this recipe.
Ingredients:
4-6 Beef Short Ribs (14-16oz each)
3 Tbs. Olive Oil

1 Medium yellow onion, finely chopped

3 Carrots, sliced

4 Celery stalks, finely chopped

2 Dried bay leaves
1 Tbs. Thyme leaves, plus 3-5 additional whole sprigs
4 Cups of hearty, but fruit driven Red Wine - Volcanic Hills Eruption, Merlot, Magma Red or Lava Red
5 Cups of Beef Broth 
1.5 tsp. Kosher salt
Freshly cracked black pepper
 Directions:
Rub Short Ribs with olive oil, and season with cracked pepper, salt, and thyme leaves (reserve sprigs for later).  Cover with plastic wrap and refrigerate for at least 2hrs to overnight.  Remove from fridge and allow to sit at room temperature before browning.
Position rack in the lower/center of the oven and preheat to 325C
Heat an 8 quart Dutch Oven over medium/high heat on the stove.  Once heated pour in 3 Tbs. of olive oil.    

Once the oil begins to smoke, transfer as many short ribs as will fit in the bottom as a single layer.  Brown on the three meaty sides.  Once browned transfer to a plate and brown remaining ribs.
 Once all ribs are browned and transferred to a plate, reduce the heat to medium and add your carrots, onion, celery and bay leaves.  Cook, stirring up the browned bits from the bottom of the pan until the onions become lightly translucent (approximately 7mins). 
Deglaze with balsamic vinegar, and add the red wine.  Increase the heat to high and bring to a boil.
Once boiling, return the ribs to the pot, making sure the vegetables are in the broth and not on top (the ribs should be nearly submerged). Tuck the thyme sprigs around the meat.
Place the pot in the oven and cook for approximately 3hrs or until the meat pulls away from the bone when poked with a pairing knife.
Remove from oven and let stand at least 30min before serving.
Serve atop garlic mashed potatoes, risotto, or broad pasta noodles with pan juices and braised vegetables.
Cheers!
     Recipe Credit: Kathryn Fedoruk