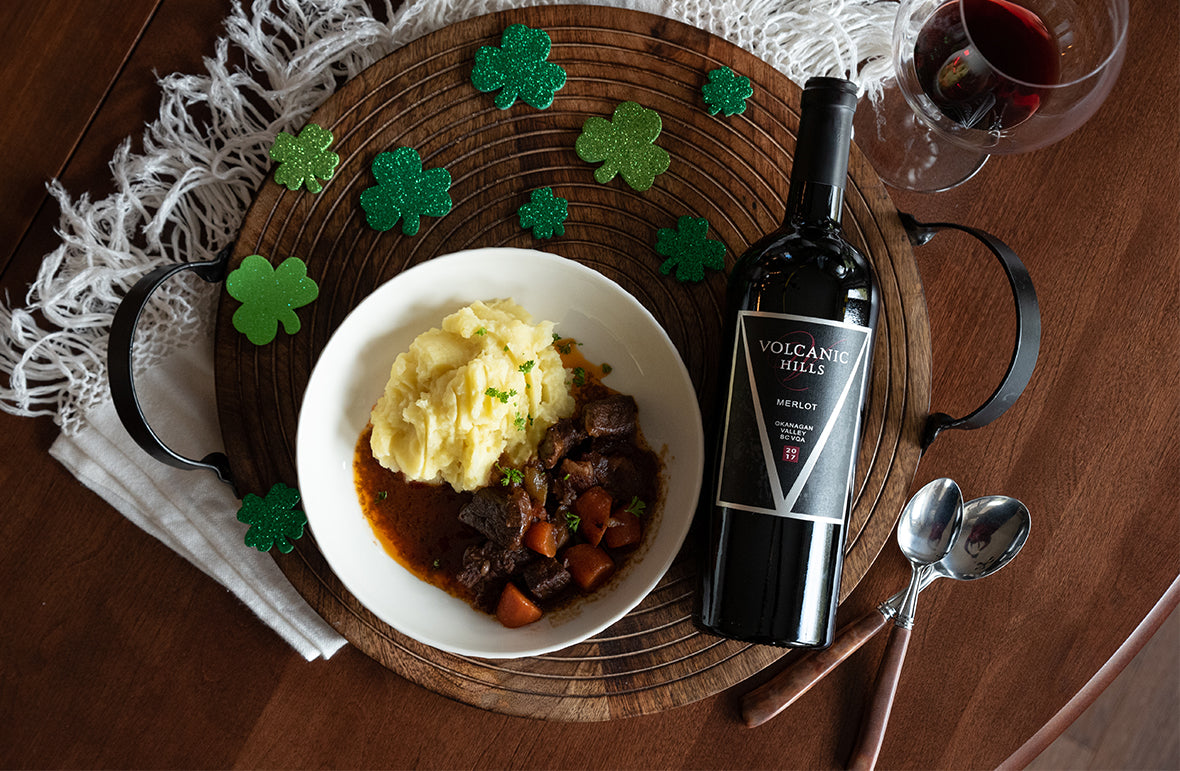 Our Lucky Twist on Irish Stew - Braised in Merlot
Who says St. Patrick's Day needs beer for celebrating?!  We recommend skipping sipping the green beer, and sipping and cooking with wine instead.  A traditional Irish stew is the ultimate in comfort food.  This particular recipe pairs perfectly with our Volcanic Hills Merlot.  You won't have to wear a shirt that says "Kiss Me I am Irish" because trust us, everyone will be showing affection for the cook! 
Irish stew needs only a few ingredients: meat, onions and potatoes, with salt and pepper. In southern Ireland, carrots are added.  We admit, this recipe is a little more reminiscent of Beef Bourguignon as we like to serve it with the potatoes on the side and a healthy dose of bacon to play on the well integrated oak in our wine.
When cooking with wine, we firmly believe in using the same wine that you would like to drink with your meal as your braising or deglazing liquid.  This helps to carry all flavours through the dish to create a perfect pairing experience.  
Our Merlot showcases aromas and flavours of cocoa dust, dark plum, black cherry, raisins, pie crust, leather, oregano and tomato leaf.  The dry palate is full bodied and full of plush velvety tannins that play well with this hearty meal. 
Ingredients:
2.5lb Beef Chuck Roast - cut into 1" cubes
1 Tbsp butter
1 Tbsp olive oil
1 Tsp salt
1 Tsp pepper

1 Tsp garlic powder

1 Tsp onion powder

2 onions - diced

4 large carrots - chopped
2 celery stalks - chopped
4 slices of bacon - finely diced
3 Tbsp flour
4 Tbsp tomato paste
4 cloves roasted garlic
1 Tbsp Worcestershire Sauce
3/4 Cup Beef Stock
1 1/2 Cups Volcanic Hills Merlot
3 Bay Leaves
4 Sprigs Fresh Thyme
 Directions:
Preheat oven to 325F.  Once hot roast garlic cloves until soft and slightly browned - approximately 12mins.  Set aside.
Season 1" cubes of beef with salt, pepper, garlic powder and onion powder
In a dutch oven or other oven safe pot, heat butter and oil together over medium high heat
Add beef in batches and brown on all sides.  Once meat is browned, remove and set aside.
Reduce heat to medium and add diced onions.  Sauté onions until slightly translucent.
Add bacon, carrots, and celery and continue to cook for 5 mins.
Carefully stir in flour and cook for an additional 5 mins on medium heat.  Stir in tomato paste.
Deglaze with Volcanic Hills Merlot, and add Worchestershire Sauce, and beef broth, stirring well to incorporate all browned bits from the bottom of your pan.
Return beef to stewing pot.  Adjust liquid level with additional stock or wine to ensure that the beef is just covered.
Add Bay leaves and thyme and stir
Cook uncovered in oven for 2hrs at 325F
Remove Bay Leaves and Thyme sprigs.  Stir in peas and let rest for 15-20mins before serving on top of mashed potatoes or wide egg noodles.
Enjoy with a healthy glass of Volcanic Hills Merlot!