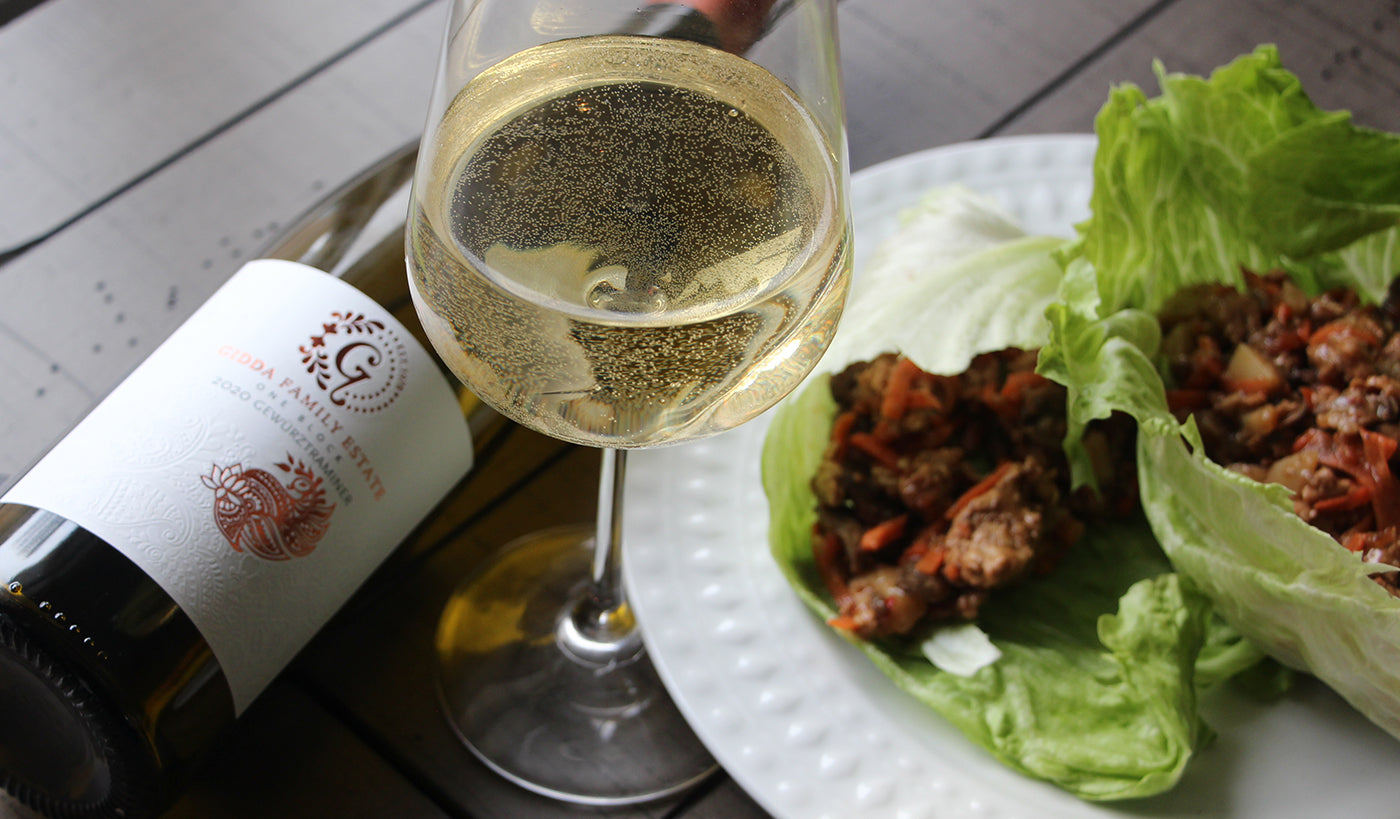 Ginger Turkey Lettuce Cups
Fruit driven and fresh, our Single Vineyard Gewurztraminer , Gewurztraminer and Gidda Family Estates Gewurztraminer, all pair perfectly with the complex flavours of spice and umami in this Asian inspired dish.  
Across the board our 3 different bottlings of still Gewurztraminer offer medium-light body and low alcohol, characteristics that make them extremely food friendly and won't overwhelm most dishes.  Each of our 3 options offers their own aromatic take on a citrus and ginger lead nose and palate.  Slight variations in sweetness and texture make unique and lovely profile matches with varied cuisines.  This is one dish that is intensely flavored and complex, bursting with bright lime juice, garlic, ginger, spicy chili and fresh herbs.  
Ingredients:
Ground Turkey
1 Head of Iceberg Lettuce
Sliced Green onion for garnish
Cilantro for garnish
1 lime

1/2 cup sliced brown mushrooms

1/2 cup water chestnuts

1/2 Cup julienned carrots

2 tbsp grated fresh ginger
1/3 cup Hoisin Sauce
2 tsp Sambal oelek
2 tbsp soy sauce
2 tsp rice vinegar
1 tsp onion powder
2 tsp minced garlic
1 tbsp sesame oil
 Directions:
Prepare Ginger/Hoisin - In a small bowl combine hoisin, soy sauce, rice vinegar, ginger, sambal oelek, salt & pepper, and juice of 1/2 the lime.
Roughly chop water chestnuts into 1/2 inch pieces. 
Heat 1tbsp. of oil in a large skillet over medium-high heat.  Once hot add the garlic, onion powder, sesame oil, mushrooms and ground turkey.  Cook for 4-6 minutes breaking apart the turkey as you go.  Cook turkey until it reaches a temperature of 165F
Once cooked reduce heat to medium and add 2/3 of the ginger-hoisin mixture along with 3 tbsp. of water to skillet and combine.
Turn off heat and add water chestnuts and carrots.
Trim bottom stem from head of lettuce and cut the head in half.  Separate out the leaves.  Wash lettuce, green onion, and cilantro.
Slice onions and chop cilantro for garnish.
Spoon filling into individual lettuce leaves
Garnish with green onion, cilantro and squeeze remaining lime on top
Serve with remaining hoisin sauce and a bottle of Gidda Family Estates Gewurztraminer, Gewurztraminer, or our Single Vineyard Gewurztraminer
Cheers!
     Recipe Credit: Kathryn Fedoruk